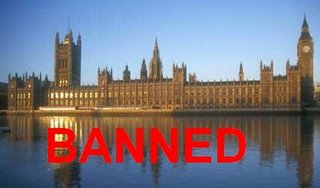 We all know that Nanny has nothing but contempt for Parliament. In her eyes it is an annoying obstacle to her plans for "improving" how we live our lives.
Therefore it should come as no surprise to hear that she is working on ways to usurp Parliament's right to pass laws and debate government Bills.
A couple of weeks ago Nanny proposed a Bill that will drastically reduce parliamentary discussion of future laws.
Constitutional experts are calling it "The Abolition of Parliament Bill".
The actual title of the Bill is "The Legislative and Regulatory Reform Bill". This Bill will give ministers the power to alter
any law
passed by Parliament.
Read that again, and think about what it means!
The only limitations will be that new crimes cannot be created if the penalty is greater than two years in prison, and that it cannot increase taxation.
All other laws can be changed
.
The mechanism for change would simply be that a minister proposes an order, then the law is changed.
This means that ministers would not have to debate their proposals, or answer any questions about them; ie Parliament will be by-passed and neutered!
It seems that if the Bill is passed any body created by statute, including local authorities, the courts and companies, could be reorganised or abolished.
Nanny says that there is nothing to worry about, she claims that the Bill will not be used for "controversial" matters.
Hands up all those who believe that?
Nanny should remember that the purpose of Parliament is to subject ministers and their laws to scrutiny, and to make them accountable for their actions. This ensures that, where there is an effective opposition, the worst excesses of government can be avoided and that the laws passed are workable and reasonable.
However, Nanny doesn't give a stuff for Parliamentary obstacles; she is in a hurry to leave a legacy.
Beware an old woman in a hurry!