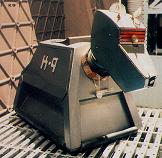 Nanny, as we all know, loves to keep records; records of our movements, records of our TV ownership, records of car ownership, ID records now even records of our DNA are being built up.
However, as with all obsessive compulsives, Nanny is not yet fully satisfied. She has decided to diversify and expand her catalogue of records from not just mere humans, but to dogs as well.
Nanny's chums on the Isle of Man, her Commissioners no less, have decided to start a doggy database for dirty dogs.
Dirty dog owners who fail to clean up after their pooches will now face fines of up to £1000, as a result of DNA testing.
Nanny's Commissioners will conduct a DNA test on every pile of dog waste they find, and use it to track down the culprits.
Nice work if you can get it!
The suspect animal will have its DNA tested, and if the sample of dog excrement matches the hapless pooch, the owner could be fined.
Honest folks, this is not some late April Fool's joke!
The plan has been announced by council bosses in the Malew area, at the island's southern tip.
Commissioners' clerk Dave Barron said:
"
I'm fed up with it.

We have tried being nice, putting up posters and talking to people.

Now we are going to take action

if we see anybody breaking a by-law.

But the problem is catching dogs in the act.

If residents want something done, I will do something.

I cannot prosecute without somebody telling me who, where and when.

There is DNA equipment that tests the poo and the dog and matches up the two.

We are not just sitting around waiting for a dog to foul the street.

We can take it further
."
PC Faith Cooper, from Port Erin police station, said:
"
It's a massive problem

You can't walk in a straight line
."
Only in Britain!
The question is, will those animals who have had their DNA tested but were found to be innocent have their DNA records removed from the central database?
Humans who get tested
don't have that right.